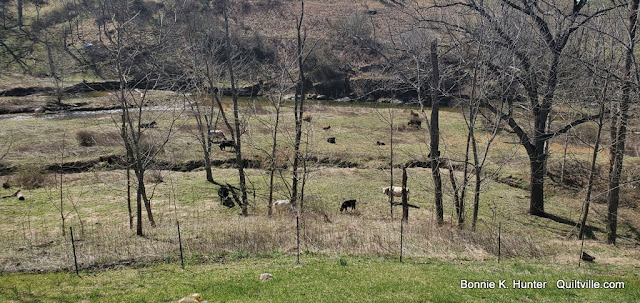 Saturday was chilly but things were still green –
And we stood on the porch for a while just enjoying the cows as they grazed down below along the creek.
There were even some little baby ones – which is always sweet to see.
The wind was brisk, however, and it soon ushered us back into the warmth of the sewing room.
Evidently Mother Nature is letting it be known that Old Man Winter isn't quite done with us yet!
I awoke yesterday morning to not only the clocks having spring forward an hour, but to this little reminder that ANYTHING can happen in March in this parts:
It's not just a skiff of snow. It's snow with frozen rain on top of it.
And as I let the dogs out one at a time to do their morning rounds of business – I could hear the frozen sleet hitting the rhododendron bushes outside the back door.
No – this is not a morning for going anywhere.
I sent a text over to Gail at the retreat to see how things were going there, and letting her know that we would be over around noon once this round of frozen gunk had stopped, and The Hubster had tended to our steep drive with a round of tractor action.
The wind was fierce enough on Saturday to turn over rocking chairs, and that also was a great indicator that "over the porch rail" photos would not happen.
However – we got a round of finished top sharing when we did make it over for a visit!
I don't have name/pattern info –
Lovely in 1930s reproductions!
Some of the ladies will be gone by the time I arrive this morning. I think it's safe to say they have had 5 days of sewing their brains out and a lot to show for it.
Safe travels home to everyone – and thanks for coming and filling this house with so much love, laughter and quilty sisterhood!
I love it! Just the binding let, and it's all done. Great job!
Yeah, you can see that awful white stuff on the deck beyond the window – but it won't last long. We'll be back to a high of 45 by Wednesday.
Could this be Winter's last hurrah? I hope so.
At any rate – I'm more than half way up the second round on the second side. If that makes sense.
It's encouraging to have the quilting go beyond just the borders and into the quilt center.
And I love the texture that hand quilting brings – especially on a solids quilt. Solid quilts can look kind of flat before the quilting is added – and then – watch out!
Also happening WEDNESDAY!
Things are coming together nicely and we'll be ready to make it all happen come Wednesday morning, so be sure to stop by and get your entries in!
(Yes, I'm missing that new spring green grass shown in this photo taken just last week – but I know it will be back!)
Today – when groups leave it always puts laundry back at the forefront. I'll be doing that and some other things – and maybe even have a chance to get back to my current paper piecing project in between washer/dryer cycles.
How about you? How was your weekend?
Quiltville Quote of the Day –
I'm thinking that today is a good day for a simple nine-patch with more wonky fan quilting.
We have a choice on what we choose to bring into our future.

The lessons learned are stepping stones, not stumbling blocks.

Vintage nine-patch quilt found in North Carolina.
And I love the pumpkin solid used as the sashing with all of those traditional blue plaids.
Such a great simple quilt!
Have a wonderful Monday, everyone!