September Sky, Spider & The Fly!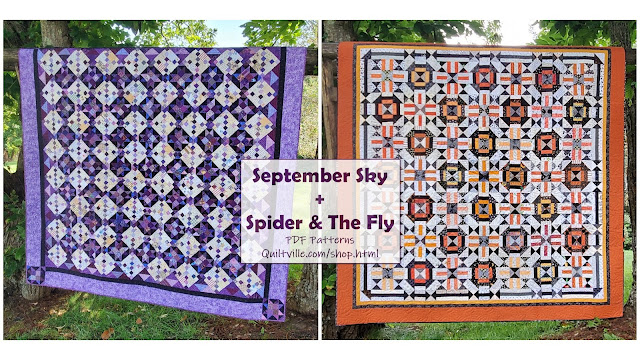 Whoowhooo!
It's time, it's time, it's more than time!
The middle of the month arrives so quickly – one day we turn from August to September, and then BAM! It's the middle of the month!
But with the middle of September comes the desire to be tucked up cozy inside, playing with fabric and planning on how I am going to happily quilt myself though the fall and winter months ahead.
I can't stop the seasons from getting colder, so I may as well dig in and enjoy it!
Are you with me?
There is something about a quilt wafting in a breeze, isn't there?
If you have been with me a while (I've been blogging here since 2005!!) you will remember that bag of purple/black bonus triangles that came home with me after a teaching trip.
You will remember when I needed more of that SAME black background fabric, long out of print and how a simple post gave me enough in the mail to finish the quilt AND use the gifted fabrics as the black inner border.
I love these star blocks, easily made from Scrap User's System sizes – and how the purples go from a royal purple to red violet.