Of Birthdays & Creepy Basements!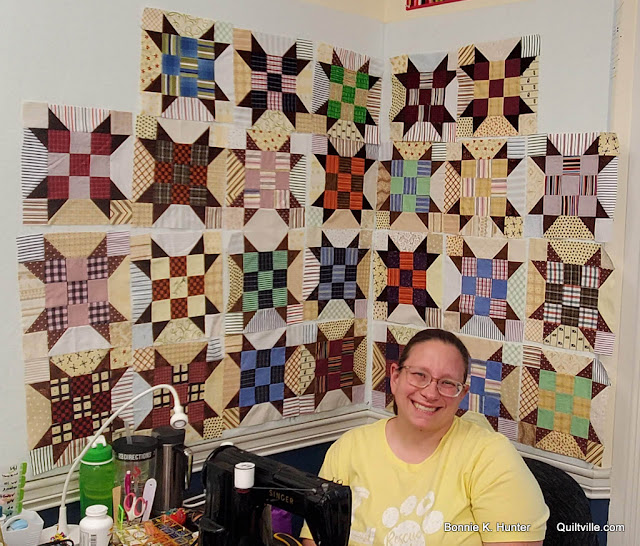 Meet our birthday girl, Rebecca!
We sang Happy Birthday to her on the back porch at brunch yesterday morning – she is here for her second time spending her birthday week with like-minded quilters and we are all the merrier for the opportunity to spend her birthday week with her!
I was ecstatic when I saw her placing her Sister's Choice blocks made with recycled shirt fabrics up on the design wall behind her. (Pattern found under the Free Patterns Tab.)
This sparked a whole new discussion of "Didn't another Quiltvillians group get to shop your shirt stash in the cellar?"
Yes. Yes, they did. Would you like to, too?

Now a 140 year old cellar can be creepy. It's where the water heaters and pressure tank are located.
There are electrical panels and storage of seasonal items and back stock of things we use in the house.
There are scary stairs to get down – and it smells a bit musty.
But that didn't scare anyone away from the tubs of shirts that I had accumulated over many years of stashing.
Digging through and finding the good ones!
I freely admit it was much of an addiction. Most of my shirt stash came from the big blue bins at the Goodwill Clearance Center where things were sold by the pound – cheaply.
Did I care if there was a stain on the pocket or a bleach mark down the front? No. Because we were going to cut that all away.
I prefer 100% cotton. Or any natural blend like cotton/linen or cotton/ramie which has a feeling much like homespun. No poly if I can help it. I don't like how poly blends behave, or how they smell when ironed. I would just rather not.
(I only say this because people are always asking – but go ahead and use what YOU want to use. If I were making a memory quilt out of someone's clothing I might include it because that shirt meant something, you know?)
More under the tables here!
Tonni's armload – washed, fluffed and folded!
I can't wait to see what quilts these fabrics end up in!
Another question I am often asked:
Do you pre-wash your OTHER fabrics if you are combining them with shirt fabrics?
Not generally. I've never found shrinking of unwashed fabrics to be a real problem. And I like the crinkly look a quilt gets when it is washed and dried for the first time.
But as always – You do you.
Washed shirt fabric can feel a bit soft, so use a bit of best press or diluted liquid starch in a spray bottle and press to add some body back to the fabric before cutting. It helps.
Most of the gang was here when I was heading home for dinner last evening.
One gal from Texas was just pulling into the drive as I was heading out – I waved and told her where to go, where to find the wagons, and to pop into the kitchen where dinner was cooking to let everyone know she was here. I look forward to greeting her more properly today!
And for those wondering – Yes, Lola is getting her lap time while I keep that left leg elevated as much as possible.
I am sure to spend time with her each and every day – even if it isn't as much time as I normally would like to.
I have some desk work to attend to this morning. 10 days until our August pattern release. MAN! Does that ever sneak up on me quickly! Just when I think I can catch my breath for a couple of weeks I'm thrown right back into it.
I'll head over to the retreat this afternoon to enjoy some porch time and see what is going on there then.
How about your own Friday ahead? Anything fun going on? Digging into any new projects?
Quiltville Quote of the Day –
Wouldn't this be a good and simple quilt to make from all of those recycled shirts?
If you see me with a seam ripper, now is not a good time!