Hey, Batter Batter – Swing Batter!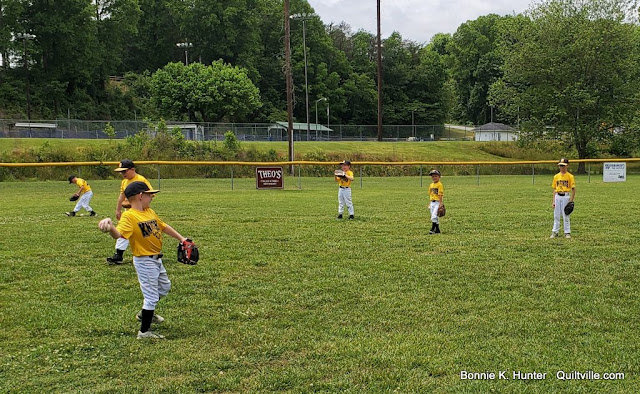 I'm going to take you away from our regularly scheduled quilty content for a moment – I hope you'll indulge me in our fantastic break-away day down to Jonesville, NC where we got to cheer on 7 yr old Casden in his little league baseball game – our first one we've been able to make!
First off – is there anything cuter than 7-year-olds getting all serious about sports?
As a mom of boys, this took me back to all of the softball and soccer games we attended while my own boys were growing up.
The weather was perfect and we had the best time!
Casen at batting practice
There is such a huge difference between ages 6 and 7. All of a sudden these "little boys" are starting to look more like young men and their abilities, likes and interests are all their own.
See what I mean? So grown up!
This had us laughing and remembering when our own son Jason was perhaps the same age – and would be found out in left field counting dandelions instead of paying attention. LOL!
Even Jeff was talking about how quickly Casden has grown – he and Ashlyn came into Jeff's life when Casden was 3. And I so love the little family they have created – the three of them.
Yes, there is playful mischief in those eyes!
We all headed to Speedy Chef in Elkin afterwards – ball games make for hungry adults and even hungrier kids.
It was well after 5:30pm by the time we returned home – a day well spent!
Meanwhile back at the ranch –
The quilters kept quilting!
The May Quiltvillians at play!
Our shirts say the SAME THING! Great minds quilt alike, right?
Yesterday's sashing adventure –
I had spent Friday in my recliner with the knee elevated – "deboning" neutral shirts for my Jacob's Ladder quilt in progress. There are some good ones here!
I got this far yesterday – webbed in one direction. Today the cross-seaming can begin.
Bigger blocks – bigger pieces – faster quilt.
It's not been my usual thing, but it is nice every once in a while to just do something comfortably traditional and enjoy the process.
What do you think – scrappy red or blue binding?
Speaking of red/white/blue –
Thank you, everyone for such a great response to yesterday's PDF pattern release! The Gift-Away already has over 2,800 entries!
I love that you are as excited about the Right Way Round pattern duo as I am.
The pattern contains BOTH variations, and you can make either of them in either size –
What do you get when you accidently make more than 1/2 of the main block wrong? A second quilt! Both versions are presented in sparkling patriotic colors of red/white/blue accented with black. Full color photos, graphics and extensive instruction included!
Quilt Sizes: Large: 80'' X 88'' Small: 53'' X 53''
Optional but helpful: Bonnie K. Hunter's Essential Triangle Tool and either the Simple folded Corners ruler, or the Simple Folded Corners Mini.

Traditional rotary cutting methods and foundation paper-piecing options are given for those who don't have access to these rulers.
So yes – if you prefer to paper-piece square-in-a-square units, we've got you covered there too with a printable page for paper-piecing.
Introductory pricing: The price marked is already 30% off and the sale is good through 5/30/23. I leave for Cairo on the 31st, so I'll need to button that up before I go. So hurry now and save before you miss it – no coupon needed.
You'll find the pattern for Right Way Round in both the Quiltville Store and the Quiltville Etsy Pattern Shop.
Enter the gift-away HERE. Drawing happens 5/30/23!
I'll be drawing for two winners who will each receive the PDF pattern containing both Right Way and Wrong Way Round from me – and even more:
One winner will receive a Facets of Black Color Roll, and the other will receive a Facets of Red Color Roll from Cotton to Quilts!
(And you know to check their website for their neutral rolls and other bundles to enhance your scrap stash, right?)
Today: BIG DAY!
It's group photo and over-the-porch-rail photo day – with a fire pit tonight!
It looks like a beautiful day ahead.
It's the last day for the May Quiltvillians and I know they are going to be making the most of it.
What do you have planned for today?
Quiltville Quote of the Day –
Let your first thoughts about yourself today be kind and encouraging.

Happy Monday everyone- have a wonderful week!