Everything is Better With Chocolate!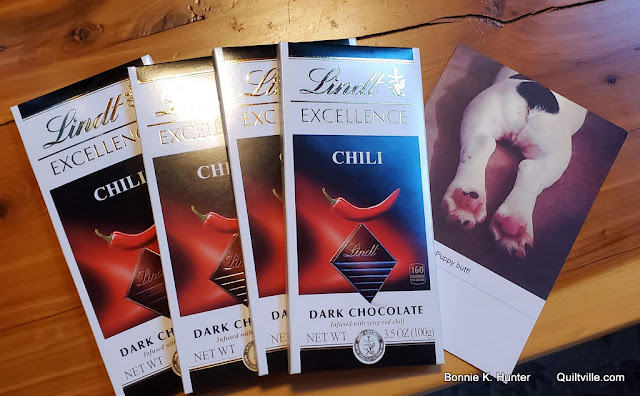 Those in the know will understand this photo and the gratitude it brings.
There are very few things I crave in this world – and Sharon understood the assignment. LOL!
Not only does she know of my adoration for dark chocolate with chili (oh, it's a delicious grown-up slow burn!) but the card with the puppy butt is bound to make ANYONE smile.
It was just what I needed to kick me into gear, armed with everything I need to spend some time at the machine and continue my progress on "something simple."
More strips area going down – odd combos and all!
Sometimes I can only get a few pairs cut from any combination, sometimes I can get more. But the sheer volume of strips that don't seem to play as nicely with others are going to find their place in chorus together.
This is where I am so far!
It was started last month, inspired by a quilt that was the background for one of my Quiltville Quotes.
You know how it is when a quilt idea niggles and naggles at you and you just have to finally cave to try JUST ONE BLOCK?
At a time when other deadlines were looming – here I was matching up strip sets and grabbing my Essential Triangle Tool to "just cut a few and see how it goes…."
And I fell down the scrappy rabbit hole.
Since I have been given the green light to get more mobile with this walking boot I have found that I can sew for about 1 1/2 hours before I need to go horizontal with the foot elevated
When I shared my progress on Facebook, this was the comment that came from Mary. And my reply.
This is how you know that it's all going to be okay.
I may be bruised and broken but I am in no way defeated and I will find a way to keep on quilting on!
Last evening when the Hubster was done with work, we drove over to the inn to welcome the August Quiltvillians – I could visit a while as he finished up some yard trimming he wanted to get done before the next round of rain.
There were many cars there – but the house was EMPTY except for Tonni and Rebecca.
It appears that I had dropped by during a group exodus to Corner Market where they were enjoying dinner after a long travel day.
I did get a private viewing of Tonni's delicious Maymont top, all ready for trimming and quilting! It's GLORIOUS!
Just check out these fun prints!
And in true quilter's fashion, she said she somehow ended up with more scrap strips than she started with.
We are both okay with that – it allows us to make more scrap quilts.
I'm headed over this morning to really welcome everyone around brunch time and say hello. I just know they are going to have a treat of a week ahead.
Last night was "top a frozen pizza and call it dinner" night since we were back from the inn a bit late.
The Hubster set the oven on pre-heat and proceeded to top the pizza.
I wondered what was smelling so delicious –
It turns out that he had put the remainder of the cake IN the oven to keep it away from the dogs while we were gone, and he had just proceeded to cook it a second time.
Cake, icing, knife and all. LOL!
You know what? reheated cake with melted icing is not half-bad after a long day.
I'm still laughing. And other things that bring a giggle:
I know the flooding situation in Eastern Kentucky is really bad. My heart goes out to those folks.
At the same time a bit of levity can be healthy medicine.
"Kentucky Noah's Ark sues insurance company over damage caused by heavy rains."