Ditch Lilies PDF Pattern Gift-Away Time!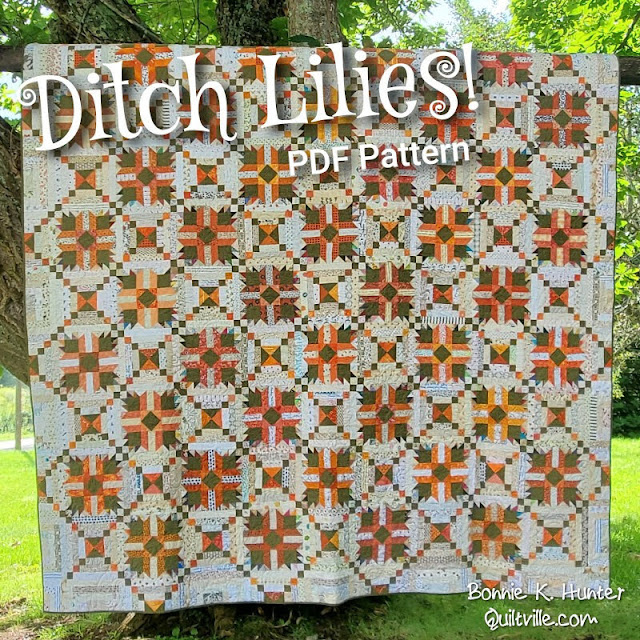 I am so happy to be sitting here at my desk connecting with you after having 6 family members – my mom, her two sisters her brother and two of their spouses spend a week with us here in Virginia.
We housed the whole gang at Quiltville Inn and have had the BEST week.
My days were full from breakfast to bedtime and there really wasn't time to blog. I'd wake up excited to head over each morning and crawl into bed after arriving home each night – and the days passed so quickly.
Aunt Gail and Uncle Tony headed back to Florida after breakfast yesterday. Today I return the rest to the airport in Charlotte. Things will be quiet for just a blink – The gals from Susan's Retreat arrive Wednesday afternoon. Whew!
I will cat4ch you up with what we've done over the past week in the next couple of posts, but I wanted to get this out here because September is flying by at rapid speed.
I've given you a few teasers on this quilt – you've watched me work on Ditch Lilies as it came to be, and even helped me decide on the name (Which I love!) and now it is available in PDF pattern form for you to make too.
If you love bear paw units, blocks that chain, and log cabin blocks – this is the quilt for you!
I used one constant Juniper Green tone on tone fabric for the green in Ditch Lilies but you could use as many as you want. My oranges go from a yellow squash orange all the way to deep burnt pumpkin.
Isn't this just perfect for fall?
We noticed so many trees starting to turn this week as we made our way from place to place. Whether we want it or not, fall is happening
And all of those neutrals from your Scrap User's System – your strip stash, your fat quarters and yardage – look how they sparkle!
Summer Sunshine!
Scrappy Summer Blossoms in sunshine colors from your scrap stash! Easy to follow instructions, full color photos and graphics to guide you from beginning to binding!
Quilt Size: 90'' X 90''
Optional but helpful: Bonnie K. Hunter's Essential Triangle Tool and either the Simple folded Corners ruler, or the Simple Folded Corners Mini.
Traditional rotary cutting methods are given for those who don't have access to these rulers.
Ditch Lilies has been added to the digital pattern section of the Quiltville Store and the Quiltville Etsy Store.
The introductory price has been marked 25% off – no coupon needed. Sale price good through 9/30/22.
And don't forget that Appalachian Autumn is ALSO on sale at 25% off through 9/30/22! Hurry and save on both!
And yes, we are having a Gift-Away!
Our 2 winners will each receive BOTH PDF patterns for Ditch Lilies and Appalachian Autumn from me as well as a Facets of Orange Color Roll from Cotton to Quilts !
Such a great way to enhance your own stash of yummy oranges!
We will draw for our 2 winners on Friday, 9/30/22!
You might notice I'm using a new form – my usual form is not working this morning, so we'll try this with Google Docs.
Your answers are only visible to ME, and I never give out your info to anyone. It's just used for notifying winners that they have won!