Birthday Bash 13 | September 23rd – 25th, 2021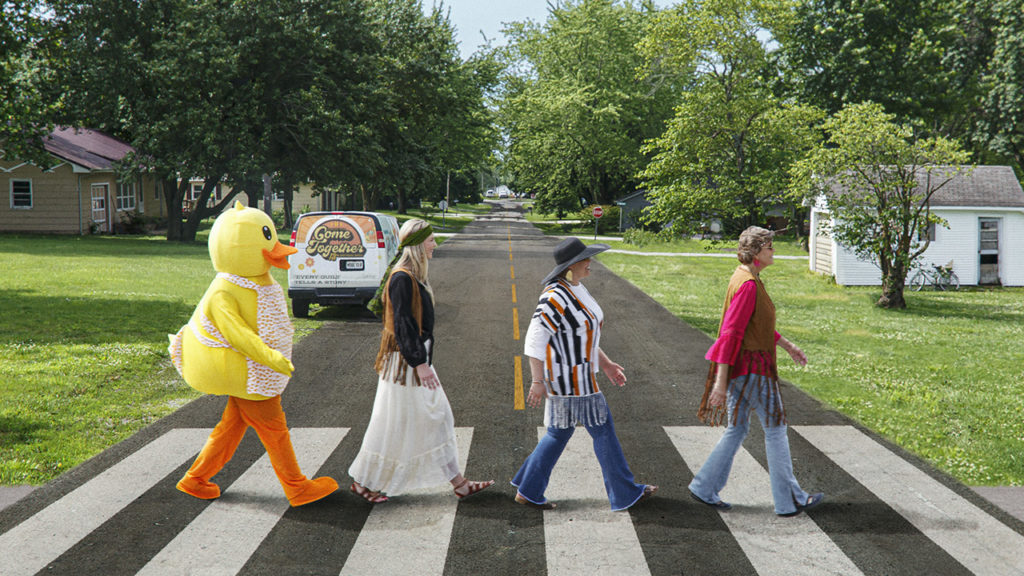 Come Together and celebrate our 13th Annual Birthday Bash online and in Hamilton, Missouri on September 23rd – 25th, 2021! We've got SEW much fun planned to celebrate Missouri Star Quilt Co and we hope you have a chance to join us for the festivities. No matter where you are, we've got something special planned for you! Enjoy exclusive content from the comfort of your home with extra tutorials and classes or attend in person for educational demonstrations from our fabulous sponsors and in-person events from the Doan Girls – Check out our full calendar of events below!
Want to know more about Birthday Bash or sign up for an in-person event? Follow the link here. To find out what we're doing to keep you safe, read our message here.
Wednesday September 22nd, 2021
4:00 PM – 8:00 PM: Pick up your Birthday Bash Swag (Theater)
5:30 PM – 8:00 PM: Dinner with the Doans (Tickets Required)
Thursday September 23rd, 2021
All Day Event: Project Linus: Come Together and Serve (Sign up for a time)
All Day Event: Charity Event (Retreat Center)
All Day Event: Demos Available throughout the Shops
8:30 AM: Introduction and Welcome (Patio)
9:00 AM: Shops Open & Swag Pickup Available
9:00 AM – 11:00 AM: Live Demo with Creative Grid (Education Classroom #1)
9:00 AM – 11:00 AM: Live Demo with Teresa Coates from Shannon Fabrics – Infinity Scarf | Luxe & Embrace (The Hangout)
9:00 AM – 11:00 AM: Live Demo with Amanda Niederhauser from Riley Blake Designs – How to use Riley Blake Basics (Tent #1 in the Park)
9:00 AM – 11:00 AM: Live Demo with Toni Steere from Timeless Treasure – One Block Wonder using Panels (Tent #2 in the Park)
9:00 AM – 12:00 PM: Ann Hazelwood's Door County Quilt Series Book Signing (Penneys)
9:00 AM – 12:00 PM: Live Demo with Lorie Valle from June Tailor (Education Classroom #2)
10:00 AM: Cake Walk #1
11:00 AM – 1:00 PM: Live Demo with Gypsy Gripper (Education Classroom #1)
12:00 PM – 2:00 PM: Pre-paid Lunch Pickup (The Hangout)
12:00 PM – 3:00 PM: Live Demo from Karen Miller from Aurifil – Thread, Needles & Gloves (Education Classroom #2)
12:00 PM – 4:00 PM: Live Demo with Teresa Coates from Shannon Fabrics – Throw | Print or Luxe Cuddle (The Hangout)
12:30 PM: Cake Walk #2
1:00 PM – 3:00 PM: Live Demo with Gypsy Gripper (Education Classroom #1)
1:00 PM – 3:00 PM: Live Demo with Amanda Niederhauser from Riley Blake Designs – How to use Riley Blake Basics (Tent #1 in the Park)
1:00 PM – 3:00 PM: Live Demo with Toni Steere from Timeless Treasure – One Block Wonder using Panels (Tent #2 in the Park)
1:00 PM – 4:00 PM: Ann Hazelwood's Door County Quilt Series Book Signing (Penneys)
2:00 PM: Triva: How Well Do You Know the 60s? (Patio)
4:00 PM: Come Together Event (Patio)
5:30 PM – 7:00 PM: Town of Hamilton Ice Cream Social
7:00 PM: Quilt Auction for Charity (Theater)
Friday September 24th, 2021
All Day Event: Project Linus: Come Together and Serve (Sign up for a time)
All Day Event: Demos Available throughout the Shops
9:00 AM: Shops Open
9:00 AM – 11:00 AM: Live Demo with Checker/ Creative Grid (Education Classroom #1)
9:00 AM – 11:00 AM: Live Demo with Toni Steere from Timeless Treasure – One Block Wonder using Panels (The Hangout)
9:00 AM – 11:00 AM: Live Demo with Teresa Coates from Shannon Fabrics – Infinity Scarf | Luxe & Embrace (Tent #1 in the Park)
9:00 AM – 11:00 AM: Live Demo with Lorie Valle from June Tailor (Education Classroom #2)
10:00 AM: Cake Walk #1
11:00 AM: Trunk Show with Crystal Manning (Tent #1 in the Park)
11:00 AM – 1:00 PM: Live Demo with Checker/ Creative Grid (Education Classroom #1)
11:00 AM – 1:00 PM: Live Demo from Karen Miller from Aurifil – Thread, Needles & Gloves (Education Classroom #2)
12:00 PM: Cake Walk #2
12:00 PM – 2:00 PM: Pre-paid Lunch Pickup (The Hangout)
1:30 PM: Sew-lebrity Sew-Off (Theater)
3:00 PM – 5:00 PM: Live Demo with Checker/ Creative Grid (Education Classroom #1)
3:00 PM – 5:00 PM: Live Demo with Toni Steere from Timeless Treasure – One Block Wonder using Panels (The Hangout)
3:00 PM – 5:00 PM: Live Demo from Karen Miller from Aurifil – Thread, Needles & Gloves (Education Classroom #2)
3:00 PM – 5:00 PM: Live Demo with Teresa Coates from Shannon Fabrics – Throw | Print or Luxe Cuddle (Tent #1 in the Park)
4:30 PM: Cake Walk #3
Saturday September 25th, 2021
All Day Event: Project Linus: Come Together and Serve (Sign up for a time)
All Day Event: JC Penney Carnival Games for JC Penney Day
All Day Event: JC Penney Vendors on Main Street
6:00 AM – 11:00 AM: Pancake Breakfast (Fire Station: Cash Only)
9:00 AM: Cake Walk #1
9:00 AM – 11:00 AM: Live Demo with Creative Grid (Education Classroom #1)
9:00 AM – 11:00 AM: Live Demo with Karen Miller from Aurifil – Thread, Needles & Gloves (Education Classroom #2)
9:00 AM – 11:00 AM: Live Demo from Faultless (The Hangout)
9:00 AM – 11:00 AM: Live Demo with Kari Clearly from Slotted Rulers (Vendor Tent)
10:00 AM: Yoga in the Park with Studio Intertia
11:00 AM: Corn Hole Tournament at Levi Garrison & Sons Brewery
11:00 AM – 1:00 PM: Live Demo with Gypsy Gripper (Education Classroom #1)
11:00 AM – 1:00 PM: Live Demo with Lorie Valle from June Tailor (Education Classroom #2)
12:00 PM: Cake Walk #2
12:00 PM – 2:00 PM: Pre-paid Lunch Pickup (The Hangout)
1:00 PM: Trunk Show with Karen Miller (Theater – Tickets Still Available)
1:00 PM – 3:00 PM: Live Demo with Gypsy Gripper (Education Classroom #1)
1:00 PM – 3:00 PM: Live Demo with Lorie Valle from June Tailor (Education Classroom #2)
1:00 PM – 3:00 PM: Live Demo with Kari Clearly from Slotted Rulers (Vendor Tent)
2:00 PM: Cake Walk #3
2:00 PM – TBD: Live Demo from Faultless (The Hangout)
3:00 PM: Goodbye from Doan Family (Patio)
3:00 PM – TBD: Live Demo with Gypsy Gripper (Education Classroom #1)
4:00 PM: JC Penney 0.1K Foot Race to Brewery
7:00 PM: JC Penney Live Music from F.M. Dial (Brewery)