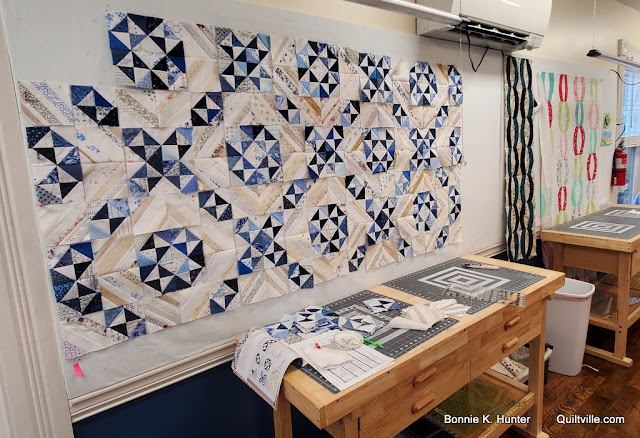 Isn't it wonderful to see long-term projects make such giant leaps thanks to extended retreat time?
If you've made Jamestown Landing from String Fling then you know EXACTLY how long it takes to piece all of those wonderful neutral string units, not to mention ALL of those blue and neutral half-square triangles (Okay, I just mentioned them.)
I've watched this grow over the past week –
And over the course of 6 days the quilt grew from units to blocks to quilt halves (because the quilt is THAT big, and there is only so much design wall space.)
And into all-together parts like this!
And all around, other design walls were full as well!
My Emerald City quilt String Frenzy is becoming Ruby Slippers being worked in red! Oh how I love two color quilts!
Everywhere you look – abundant creativity!
Scrap Happy double nine-patches in the works here.
I believe there is something wonderful underway here!
Check out these tiny Dresdens!!
We stopped by last night for some group photo activity before one of the July Quiltvillians had to head home due to "job stuff." Well dang! We'll see her again next year!
Thanks to the Hubster's photo skills I could skedaddle myself right into the photos with everyone else.
There are more photos to come – the quilts over the rail – SO MANY that I'm saving them for tomorrow's post.
This morning everyone is packing up and heading out.
Rebecca is group mom for the July Quiltvillians, and the August Quiltvillians so she is staying today and tomorrow to help Susan and take charge of the laundry along with Betty who is staying behind a bit to pitch in.
I'll head over this afternoon and fold towels and prepare towel baskets for tomorrow's group arrival – that's something I can do on the ground floor while seated.
And tomorrow we do it all again!
Some have asked what I've been sewing on since weight bearing started on Friday and I am able to get down to the sewing studio here at home.
Guess what time of year it is for me?
And no, there are no hints!
I'm excited about revealing colors and more at the end of October which is not that far away, so I am using this time to dig in behind the scenes.
And I'll likely be pulling something else forward so I have something to share –
Does that pique your interest? I hope so!
Quiltville Quote of the Day
Did you know that 90% of what we worry about never happens?

I'd rather be on the side of best case scenarios then manifest worst case scenarios!

Have a terrific Tuesday, everyone!